Legal Services for Business, Family and Institutions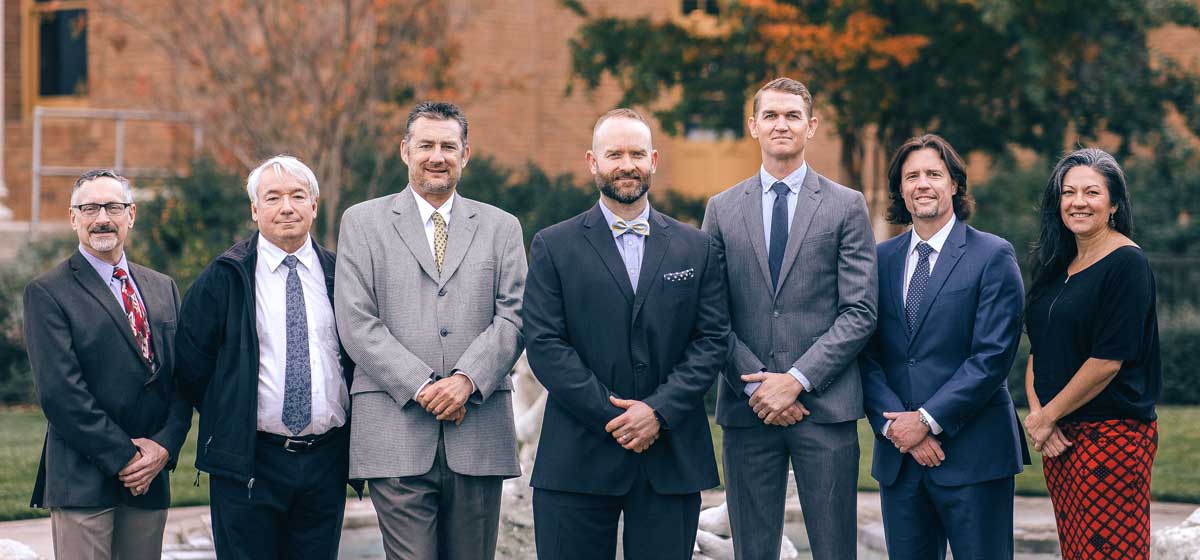 The Law Offices of Daniel J. Knight, a Professional Law Corporation is committed to bringing both legal expertise and business experience to your legal matter.
Civil Litigation Group

General Litigation is a very broad term, and general civil law matters may range from contractual disagreements, to property and real estate disputes to estate contests.
Group Lead: Daniel Knight
Group Members: Daniel Knight, Scott Hamblin, Benjamin Bourgault and James Caldwell
First steps are important in determining your legal position and the strengths of various approaches to winning a positive outcome in any dispute.
A consultation with a member of our team is the safest, easiest and fasted way to determine how, when and if you should pursue a legal remedy.
Just call or click the Schedule Consultation button on the left to email or call our local office.
Group Lead: Benjamin Bourgault
Group Members: Craig S. Ainsworth, Dana Ainsworth
Guardianship  •  Will  •  Trust  •  Financial Power of Attorney • (POA) Durable Power of Attorney (POA)  •  Advance Healthcare Directive (AHCD)  •  Beneficiary Designations  •  Succession Plan
Group Lead: Daniel Knight
Group Members: Scott Hamblin, and Benjamin Bourgault
Expert Witness • Alternative Dispute Resolution  •   Defective Design (architectural and engineering   •   Professional Liability   •   Defective Workmanship   •    Delay, Disruption and Prolongation Claims   •    Contractor and Subcontractor Disputes   •   Mechanic's Liens and Foreclosure Claims   •    Terminations
Group Lead: Scott Hamblin
Group Members: Daniel Knight and James Caldwell
Land Use   •   Variances Permits   •   Foreclosures   •   Escrow    •   Contracts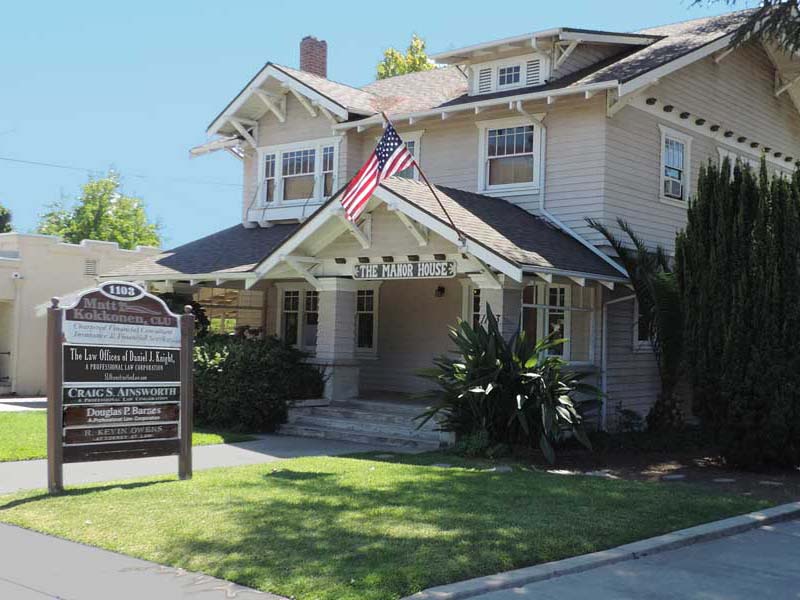 Located in the "Manor House" in the San Luis Obispo Historic Business District
San Luis Obispo, California
Downtown San Luis Obispo – Main Office
1103 Johnson Ave
San Luis Obispo CA 93401
805.316.1180
Dan J. Knight a Professional Law Corporation
1103 Johnson Ave #H
San Luis Obispo CA 93401 
Phone: 805-316-1180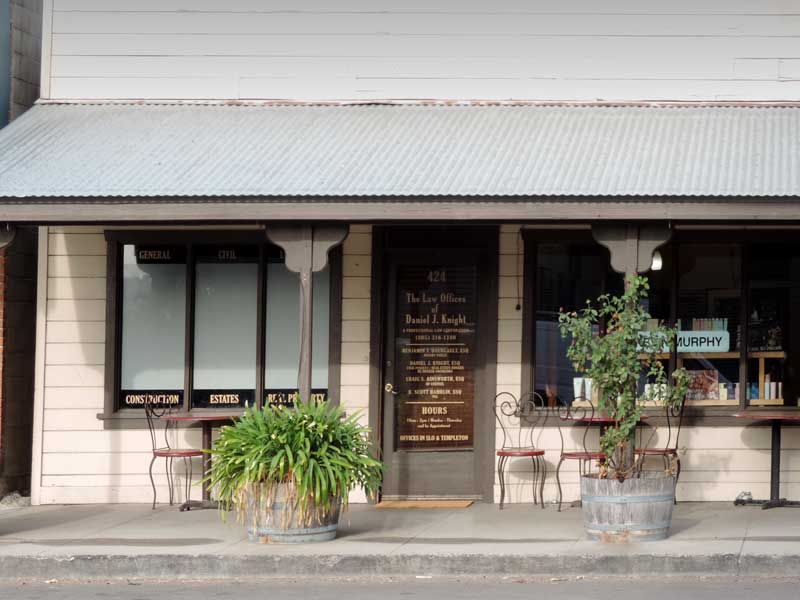 Our North County offices are located in downtown Templeton next to Hewitt Hardware
Main Street Templeton  Office 
North County Office Address:
424 South Main Street 
Templeton CA. 93465
805.316.1180
Dan J. Knight a Professional Law Corporation
North County Office Address:
424 South Main Street
Templeton CA.

93465

Phone: 805-316-1180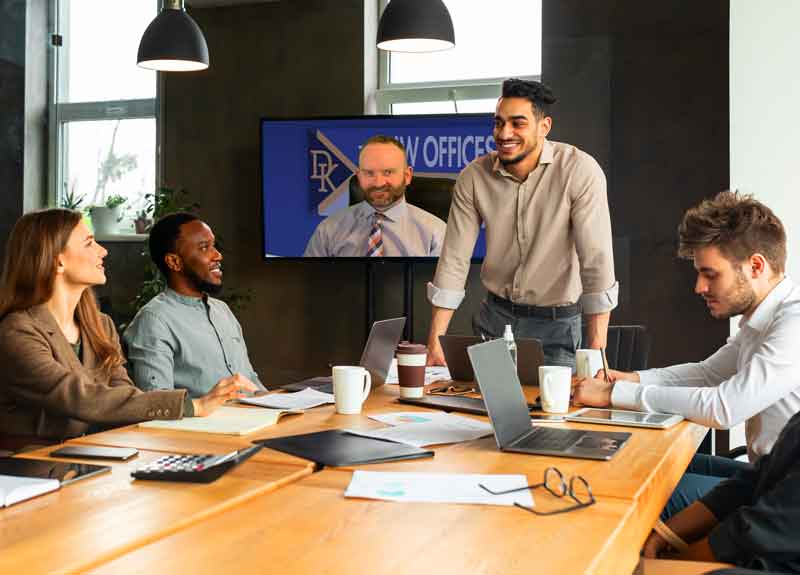 California Law delivered Across Town or Anywhere by Internet
Our Virtual Office service provide, convenience, fast service confidential personal client meetings, depositions, document signing and the full range of in office capabilities at home, office or on the road. 
Dan J. Knight a Professional Law Corporation
North County Office Address:
424 South Main Street
Templeton CA.

93465

Phone: 805-316-1180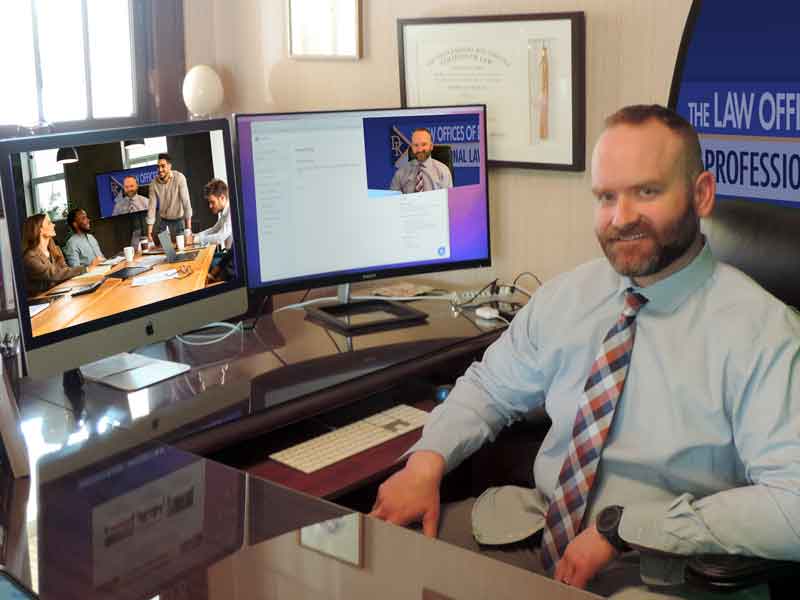 Legal Team
Attorneys – San Luis Obispo – Templeton – Remote Offices
Daniel J. Knight
Principal Attorney – SLO &
Templeton Offices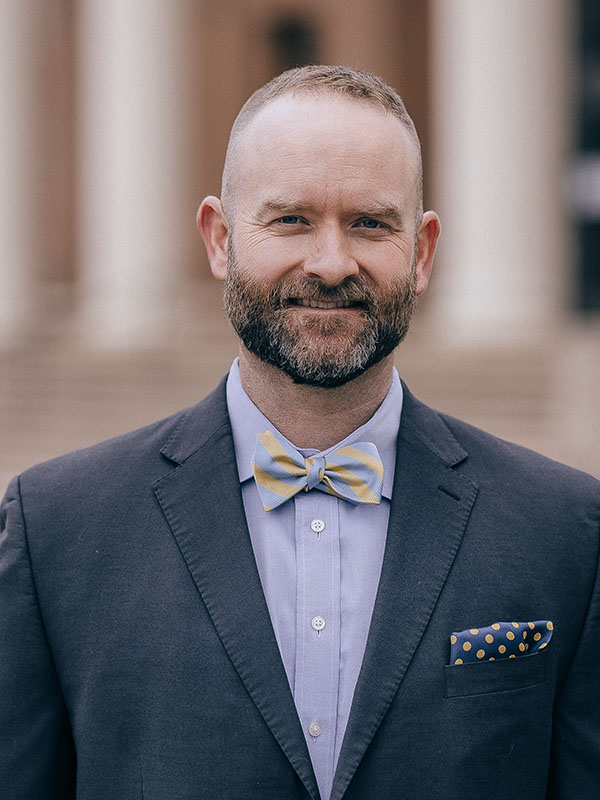 A "born & raised" San Luis Obispo County native, Dan feels privileged to be an active part of such a strong and vibrant community and to have grown up learning its ins and outs, institutions, relationships and interrelationships.
Show More
Dan started his career by working in his father's construction business; gaining knowledge from experienced tradespeople about the "right" ways to construct foundations, build residential/commercial structures, and work in the public right-of-way. During high school Dan worked at Pete's Automotive in Morro Bay, California.
After graduation from high school, Dan started his own one-person
general construction business and, through hard work and tenacity, grew it into a full-service general building and general engineering company. At the same time, Dan went back to school, earned both a bachelors and master's degree in accounting, and then continued to and graduated from law school, passed the bar and began his career as a licensed attorney. Along the way Dan also obtained his real estate broker's license.
Dan lives in Atascadero with his wife Shawn (married in 2013), and three precocious children. When not working, Dan enjoys playing rugby at the Prop or Lock positions, weightlifting/kettle bell workouts, endurance backpacking and other outdoors activities. Dan's goal in his hobbies is to push the body hard enough that it becomes both a physical and mental test of discipline.
Benjamin Bourgault
Associate Attorney –
Templeton Office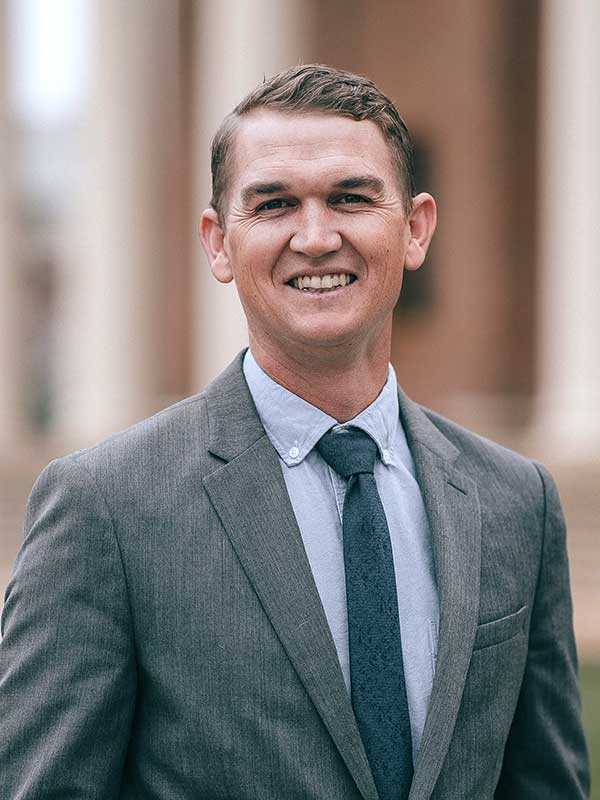 Benjamin Bourgault is an Associate Attorney with The Law Offices of Daniel J. Knight, PLC. Ben earned his law degree from San Luis Obispo College of Law in 2020 where he was taught by local legal professionals, including Dan Knight.
Show More
He was also a finalist in the San Luis Obispo Heisler Moot Court, where he argued against government invasions of privacy through personal devices. Ben recognizes the value that local relationships bring to a law firm.
Prior to attending law school, Ben worked in healthcare where he managed the relationships of clients and industry stakeholders. He has a bachelor's in business administration from San Diego State University and graduated from Paso Robles High School. Ben strives to represent the acumen and work ethic expected of professionals in San Luis Obispo County. He cares for the community and wants to preserve the values that make up life on the Central Coast.
Ben is married to his darling wife, Kelly, who owns a salon with her family in Templeton. When they get a day off together, you'll find them at their property in Paso Robles, where she walks her Chesapeake Bay Retriever, and he putts along on his 1968 Allis Chalmers (bulldozer).
Craig S. Ainsworth
Of Legal Counsel –
SLO Offices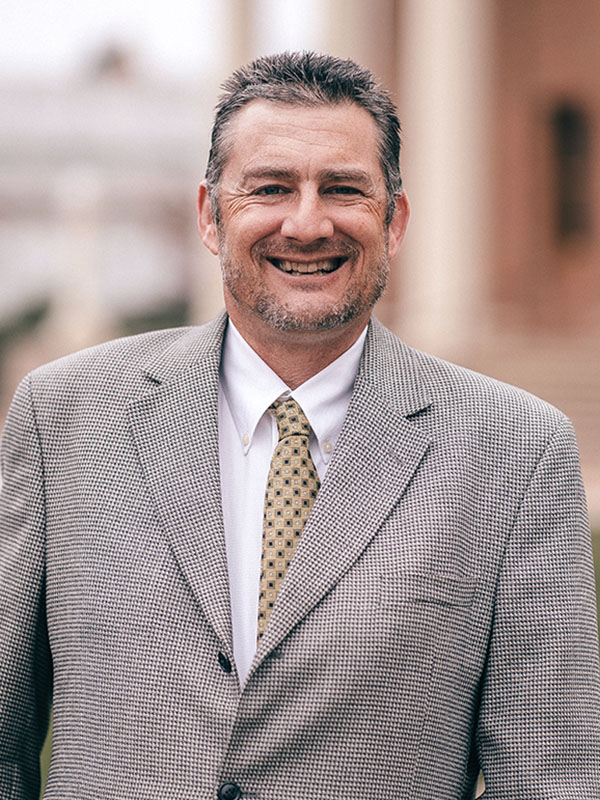 Craig attended Santa Clara University School of Law from fall 1998 through spring 2001.
Show More
Following his first year of legal studies, where he received honorable distinction as an American Jurisprudence Award recipient for top achievement in the study of real property law, Craig studied comparative legal theory at Magdalen College, Oxford, England. Following his second year studies, Craig interned with the District Attorney's Office, San Luis Obispo County. Throughout law school, Craig also worked and volunteered at his law school's community law center, gaining experience under supervising attorneys in the practice areas of consumer law, bankruptcy, immigration and workers' compensation.
Craig graduated from law school in spring 2001, sat for the summer 2001 Bar Exam, and was admitted to the California State Bar in December 2001. Craig immediately returned to San Luis Obispo where he has since practiced principally in the areas of family law, estate planning, trust and probate law, and civil litigation.
Scott Hamblin
Associate Attorney –
SLO Office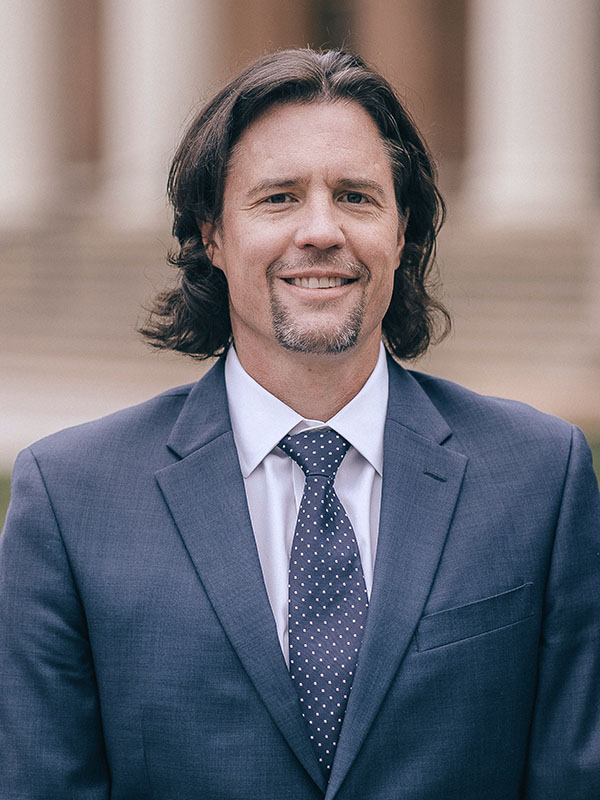 Scott Hamblin is an Associate Attorney with The Law Offices of Daniel J. Knight, PLC. Scott earned his J.D. and Master of Legal Studies degrees from San Luis Obispo College of Law in 2021. 
Show More
In addition to his legal knowledge, Scott brings with him a professional background consisting of two decades worth of military and corporate leadership positions and experience. Scott is a 10-year disabled Navy veteran.
Following his military services, he held multiple corporate leadership and negotiator roles at Hawaiian Airlines and Zodiac Aerospace. 
While not originally from California, since 2017, Scott proudly calls the Central Coast his home. Scott lives in the Central Coast with his elegant wife, Jamie and his two bright and beautiful daughters.
When not working, Scott can be found either surfing at Pismo and Shell Beach, spending time with his family at the beach, hiking or playing golf, or having make-believe tea parties with his girls.
Office Support Team
Staff – San Luis Obispo – Templeton – Remote Offices
James Caldwell
Paralegal – Office Administrator – SLO Office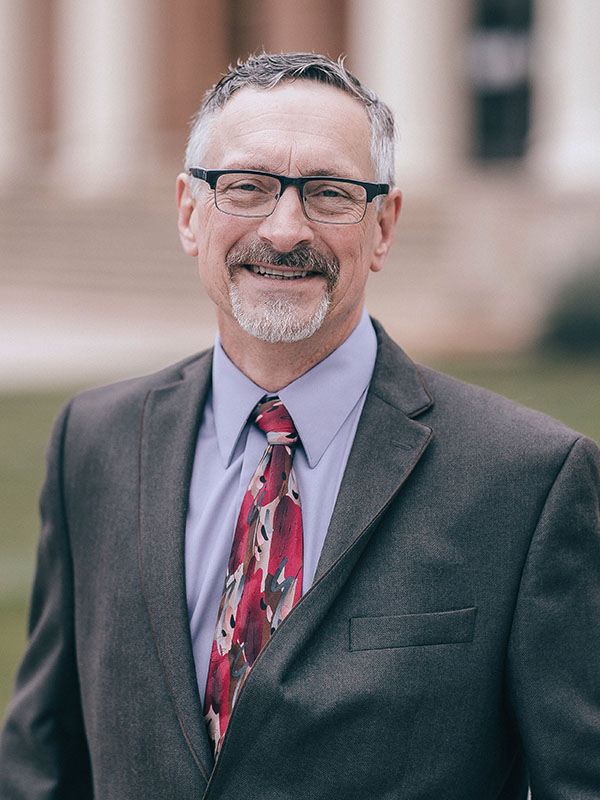 In the position of Office Manager and Paralegal with The Law Offices of Daniel J. Knight, P.L.C., James Caldwell brings the knowledge, experience, organizational and problem-solving skills garnered during a 35-year career in the real estate field, first as a Title Officer and subsequently as a certified Petroleum Landman.
Show More
James is highly skilled in addressing issues and formulating solutions for a wide range of real property matters, such as title defects, subdivision, mineral rights ownership and leasing, complex transactions, boundary line disputes, and access/right-of-way issues. Having worked closely with many attorneys over the years, James was excited to make the transition to become a part of Dan Knight Law and found that the same skill sets applied; intellectual curiosity and "outside the box" thinking coupled with a detail oriented, logical and methodical approach to serving the client's needs.
A lifelong Californian, James was born and raised in the central valley. After obtaining a B.S. in Economics from C.S.U.B. he began working in the title insurance industry and in pursuing that career lived and worked in both Southern California, Monterey, and the San Francisco bay area. James was fortunate to be able to return home to the central valley to care for his mother during the last few years of her life and, as a person who is committed to life-long learning, he was able to obtain a degree in human biology during that time.
Now, having been back in San Luis Obispo County and living in Atascadero for the last decade, James spends his leisure time exploring this remarkable area, building model rockets and wrangling slightly overweight cats. All while being lucky enough to have his son, daughter-in-law, grandson and stepdaughters nearby.
Dana Ainsworth
Administrative Manager – SLO Office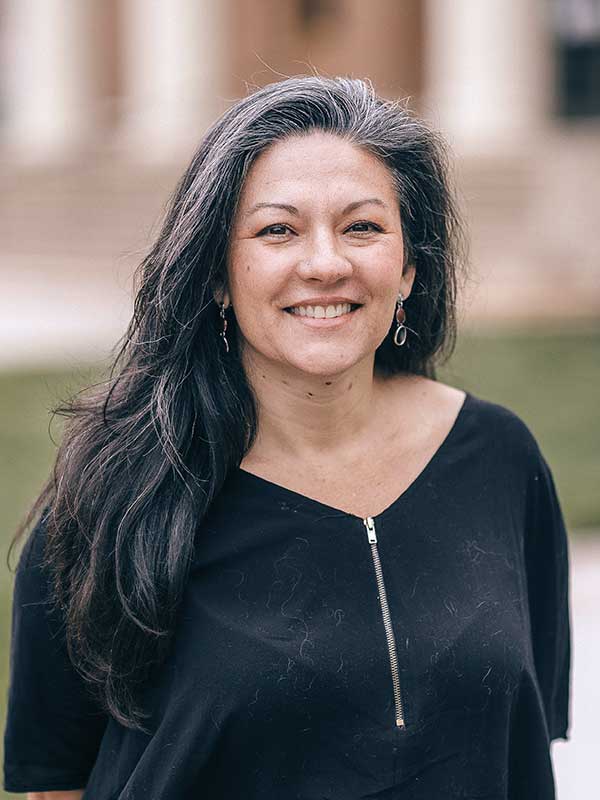 Dana is a multi-tasking powerhouse and makes solving complex administrative problems look easy.
Show More
Dana has variously worked as her husband Craig's legal assistant in his estate planning and probate administration practice for the last 15 years. For the last 8 years, she has also worked integrally in developing and growing a multi-million dollar general contracting firm, shepherding its growth from a small family business. Dana was born in Saigon, Vietnam one month before the 1975 evacuation of American personnel. She is a lifetime California resident, having lived in San Luis Obispo for the last 25 years. She has one daughter, Alexis, who is the center of her universe. Dana developed early on in her professional career extraordinary administration skills that have served her employers well. She has worked in several attorneys' offices and insurance agencies, as well as for the Superior Court. 
Darren Thomas
Technology Director
Physical and Remote Offices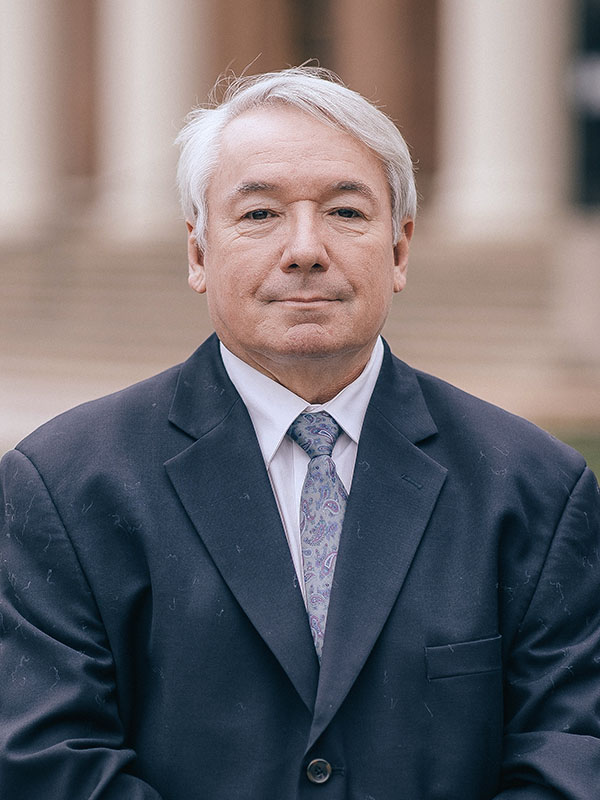 Darren's decades in the corporate communications  for the technology field provide ample experience to maintain a secure and productive suit of support and marketing services for our network of offices.
Show More
Darren has worked for fortune 500 companies going back to the early days of Apple and Intel, starting out in corporate communications then moving on to startups in computer graphics systems used for product introductions for Porsche, Toyota and Honda to name a few. His PR experience and hands-on computer skills make him a valuable member of our growing team. A North County community member since 1995 additionally he works with several local non-profits.
Please complete and submit the below form so we can contact you to schedule your consultation or call us directly if you prefer to set up your consultation over the phone.
Submission of this form does not create an attorney client relationship. Do not include any sensitive information in this form. Include general information and parties only. A condition of scheduling your consultation will include performing a conflict of interest check by The Law Offices of Daniel J. Knight, a Professional Law Corporation.