Legal Consultation Services for the Construction Industry
Not interested in a conventional construction law firm?
                                                           …Neither are we.
The Law Offices of Daniel J. Knight, a Professional Law Corporation is committed to bringing both legal expertise and construction technical experience to your construction law matter.
Our professional team is ready to address your legal, property and construction issues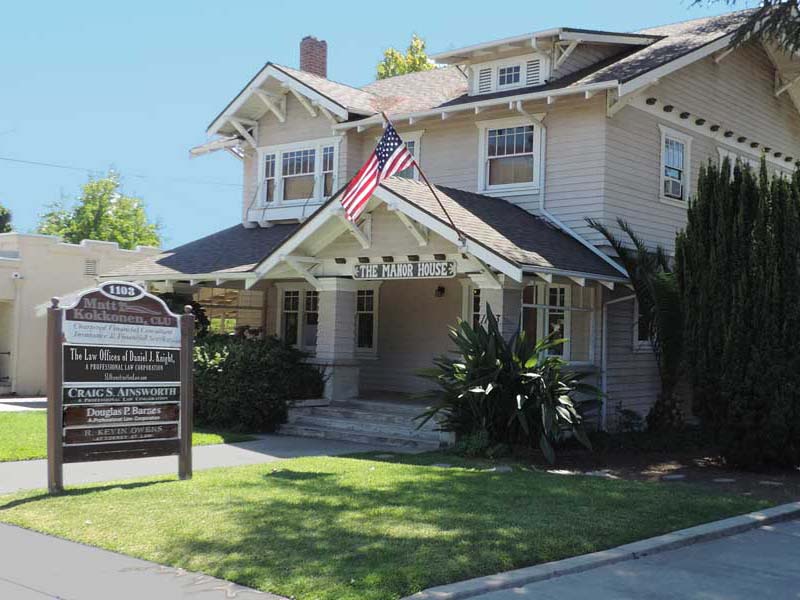 Located in the "Manor House" in the San Luis Obispo Historic Business District
San Luis Obispo, California
Downtown San Luis Obispo – Main Office
1103 Johnson Ave
San Luis Obispo CA 93401
805.316.1180
Dan J. Knight a Professional Law Corporation
1103 Johnson Ave #H
San Luis Obispo CA 93401 
Phone: 805-316-1180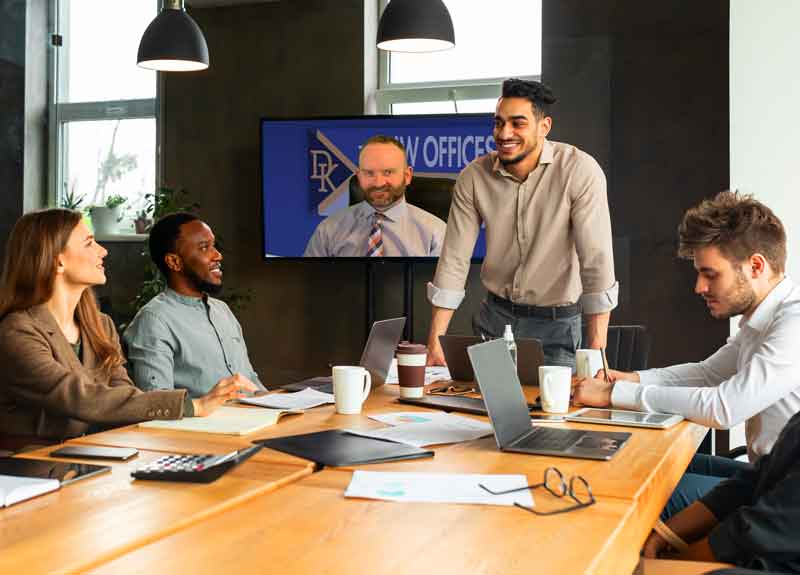 California Law delivered Across Town or Anywhere by Internet
Our Virtual Office service provide, convenience, fast service confidential personal client meetings, depositions, document signing and the full range of in office capabilities at home, office or on the road. 
Dan J. Knight a Professional Law Corporation
North County Office Address:
424 South Main Street
Templeton CA.

93465

Phone: 805-316-1180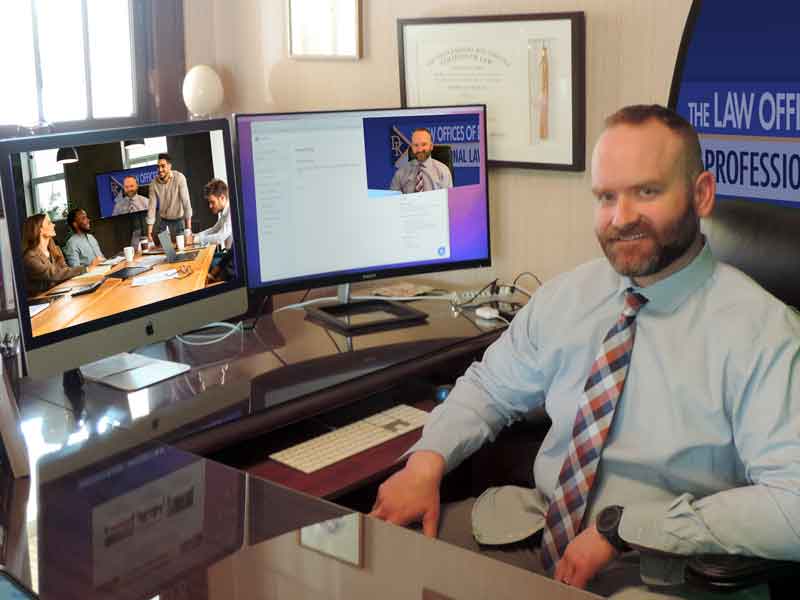 Legal Team
Attorneys – San Luis Obispo – Remote Offices
Daniel J. Knight
Principal Attorney – SLO Office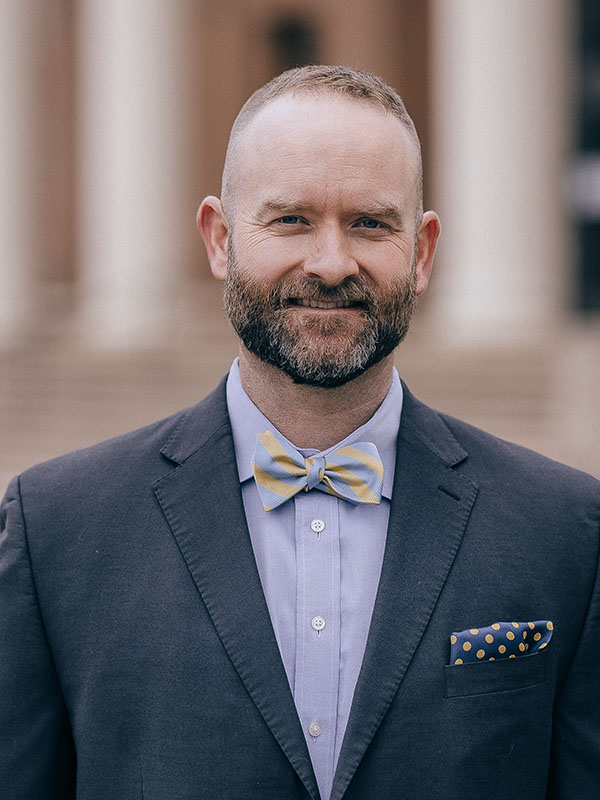 A "born & raised" San Luis Obispo County native, Dan feels privileged to be an active part of such a strong and vibrant community and to have grown up learning its ins and outs, institutions, relationships and interrelationships.
Show More
Dan started his career by working in his father's construction business; gaining knowledge from experienced tradespeople about the "right" ways to construct foundations, build residential/commercial structures, and work in the public right-of-way. During high school Dan worked at Pete's Automotive in Morro Bay, California.
After graduation from high school, Dan started his own one-person
general construction business and, through hard work and tenacity, grew it into a full-service general building and general engineering company. At the same time, Dan went back to school, earned both a bachelors and master's degree in accounting, and then continued to and graduated from law school, passed the bar and began his career as a licensed attorney. Along the way Dan also obtained his real estate broker's license.
Dan lives in Atascadero with his wife Shawn (married in 2013), and three precocious children. When not working, Dan enjoys playing rugby at the Prop or Lock positions, weightlifting/kettle bell workouts, endurance backpacking and other outdoors activities. Dan's goal in his hobbies is to push the body hard enough that it becomes both a physical and mental test of discipline.
Craig S. Ainsworth
Of Legal Counsel –
SLO Office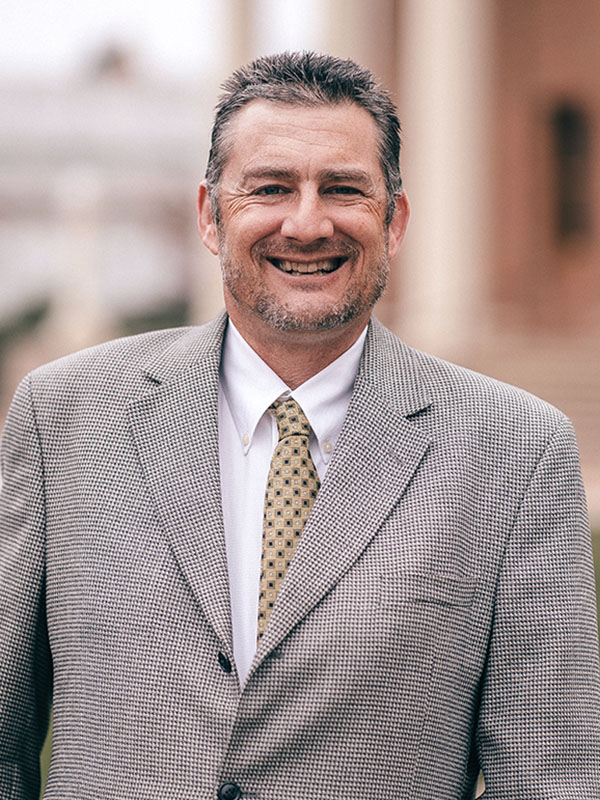 Craig attended Santa Clara University School of Law from fall 1998 through spring 2001.
Show More
Following his first year of legal studies, where he received honorable distinction as an American Jurisprudence Award recipient for top achievement in the study of real property law, Craig studied comparative legal theory at Magdalen College, Oxford, England. Following his second year studies, Craig interned with the District Attorney's Office, San Luis Obispo County. Throughout law school, Craig also worked and volunteered at his law school's community law center, gaining experience under supervising attorneys in the practice areas of consumer law, bankruptcy, immigration and workers' compensation.
Craig graduated from law school in spring 2001, sat for the summer 2001 Bar Exam, and was admitted to the California State Bar in December 2001. Craig immediately returned to San Luis Obispo where he has since practiced principally in the areas of family law, estate planning, trust and probate law, and civil litigation.
Office Support Team
Attorneys – San Luis Obispo – Remote Offices
James Caldwell
Paralegal – Office Administrator – SLO Office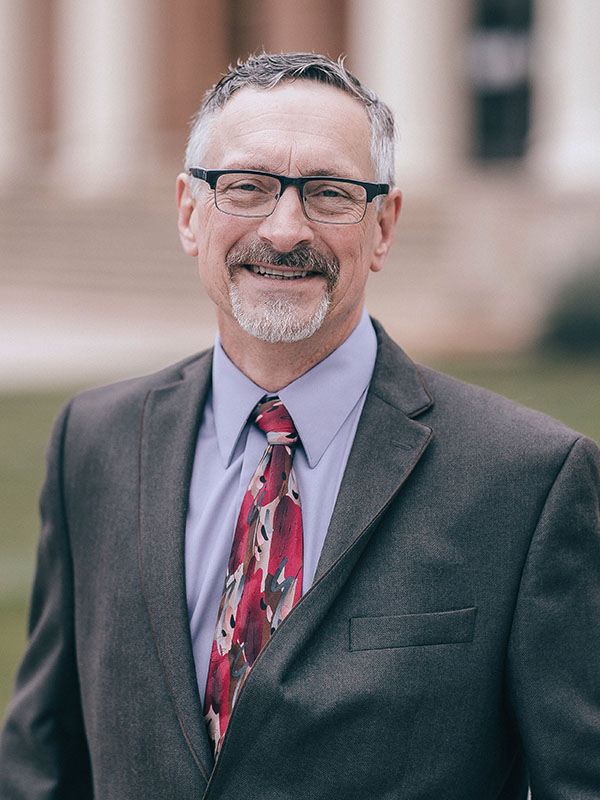 In the position of Office Manager and Paralegal with The Law Offices of Daniel J. Knight, P.L.C., James Caldwell brings the knowledge, experience, organizational and problem-solving skills garnered during a 35-year career in the real estate field, first as a Title Officer and subsequently as a certified Petroleum Landman.
Show More
James is highly skilled in addressing issues and formulating solutions for a wide range of real property matters, such as title defects, subdivision, mineral rights ownership and leasing, complex transactions, boundary line disputes, and access/right-of-way issues. Having worked closely with many attorneys over the years, James was excited to make the transition to become a part of Dan Knight Law and found that the same skill sets applied; intellectual curiosity and "outside the box" thinking coupled with a detail oriented, logical and methodical approach to serving the client's needs.
A lifelong Californian, James was born and raised in the central valley. After obtaining a B.S. in Economics from C.S.U.B. he began working in the title insurance industry and in pursuing that career lived and worked in both Southern California, Monterey, and the San Francisco bay area. James was fortunate to be able to return home to the central valley to care for his mother during the last few years of her life and, as a person who is committed to life-long learning, he was able to obtain a degree in human biology during that time.
Now, having been back in San Luis Obispo County and living in Atascadero for the last decade, James spends his leisure time exploring this remarkable area, building model rockets and wrangling slightly overweight cats. All while being lucky enough to have his son, daughter-in-law, grandson and stepdaughters nearby.
Dana Ainsworth
Administrative Manager – SLO Office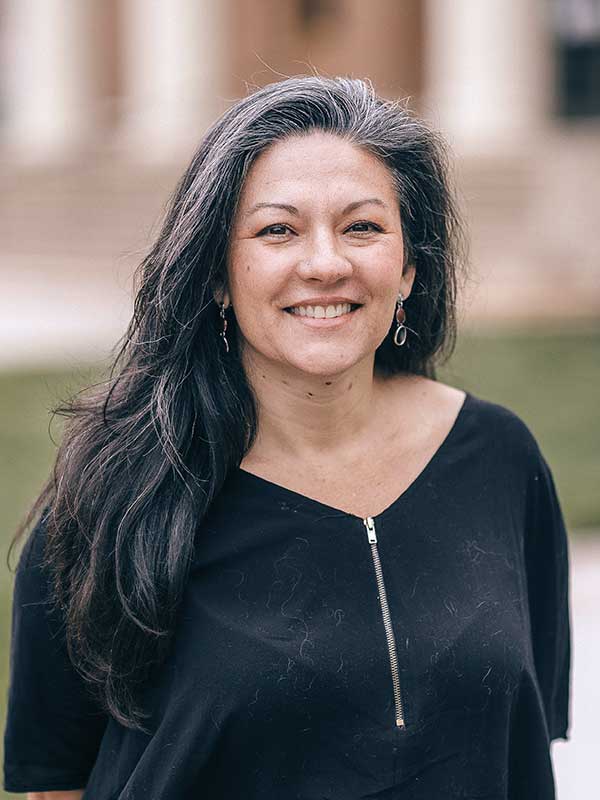 Dana is a multi-tasking powerhouse and makes solving complex administrative problems look easy.
Show More
Dana has variously worked as her husband Craig's legal assistant in his estate planning and probate administration practice for the last 15 years. For the last 8 years, she has also worked integrally in developing and growing a multi-million dollar general contracting firm, shepherding its growth from a small family business. Dana was born in Saigon, Vietnam one month before the 1975 evacuation of American personnel. She is a lifetime California resident, having lived in San Luis Obispo for the last 25 years. She has one daughter, Alexis, who is the center of her universe. Dana developed early on in her professional career extraordinary administration skills that have served her employers well. She has worked in several attorneys' offices and insurance agencies, as well as for the Superior Court. 
Darren Thomas
Technology Director
Physical and Remote Offices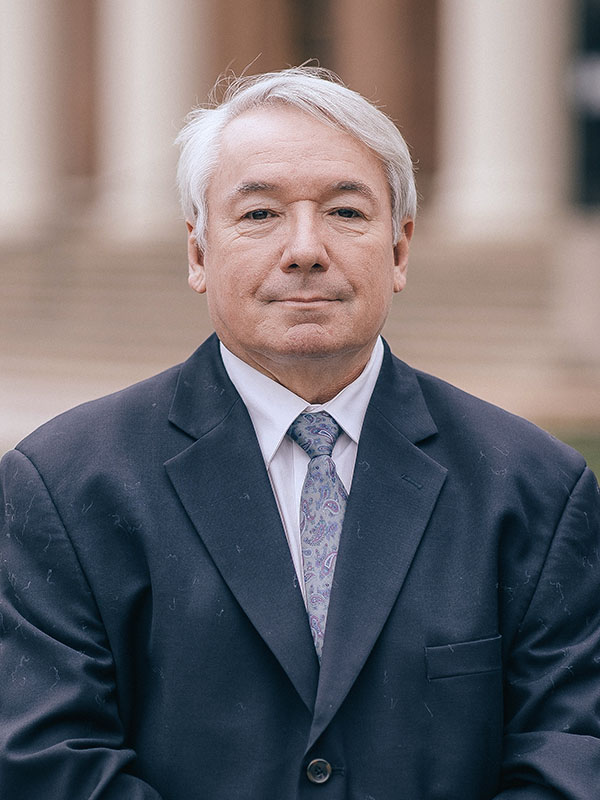 Darren's decades in the corporate communications  for the technology field provide ample experience to maintain a secure and productive suit of support and marketing services for our network of offices.
Show More
Darren has worked for fortune 500 companies going back to the early days of Apple and Intel, starting out in corporate communications then moving on to startups in computer graphics systems used for product introductions for Porsche, Toyota and Honda to name a few. His PR experience and hands-on computer skills make him a valuable member of our growing team. A North County community member since 1995 additionally he works with several local non-profits.
Community is Key
Daniel J. Knight – My life growing up and into our Central Coast Community
Dan Knight grew up in San Luis Obispo County, California, built in San Luis Obispo County and California and now practices law in San Luis Obispo County and California.
Growing up and attending school in SLO County, Dan graduated from Templeton High School and attended Cuesta Community College while operating a small construction business. While working in the trades Dan worked his way through finishing his Bachelors and Masters degree in Accounting from Walden University before attending Law School at the Santa Barbara Colleges of Law. Upon graduation Dan took and passed the California Bar exam on the first attempt. All of Dan's internships during law school were construction related and Dan worked under general counsel for a large residential developer in California.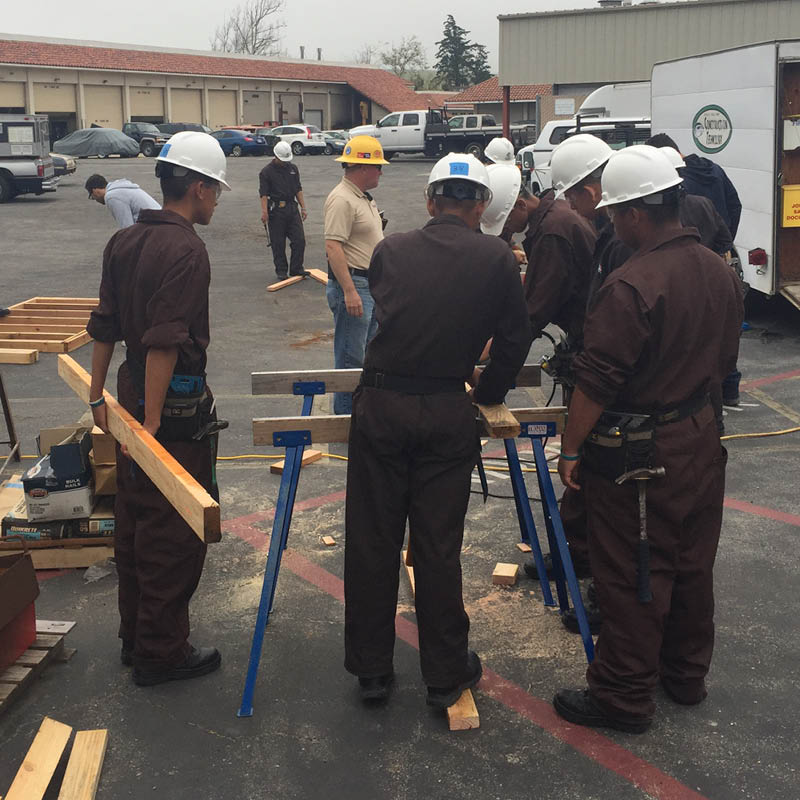 Teaching Grizzly Youth Academy construction skills at Cuesta College.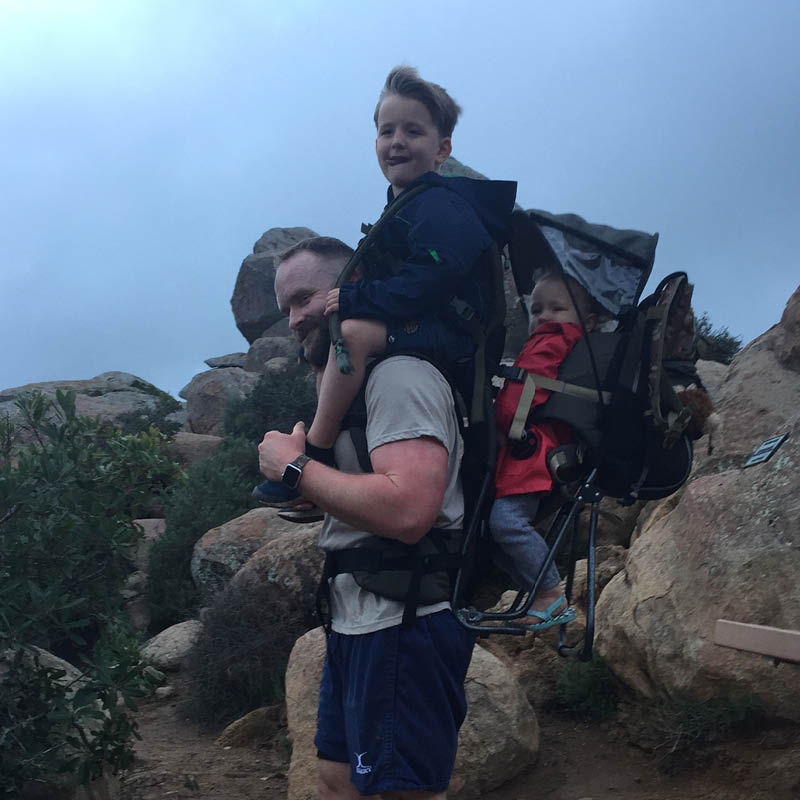 Hiking with the two older kids up Bishops Peak in SLO.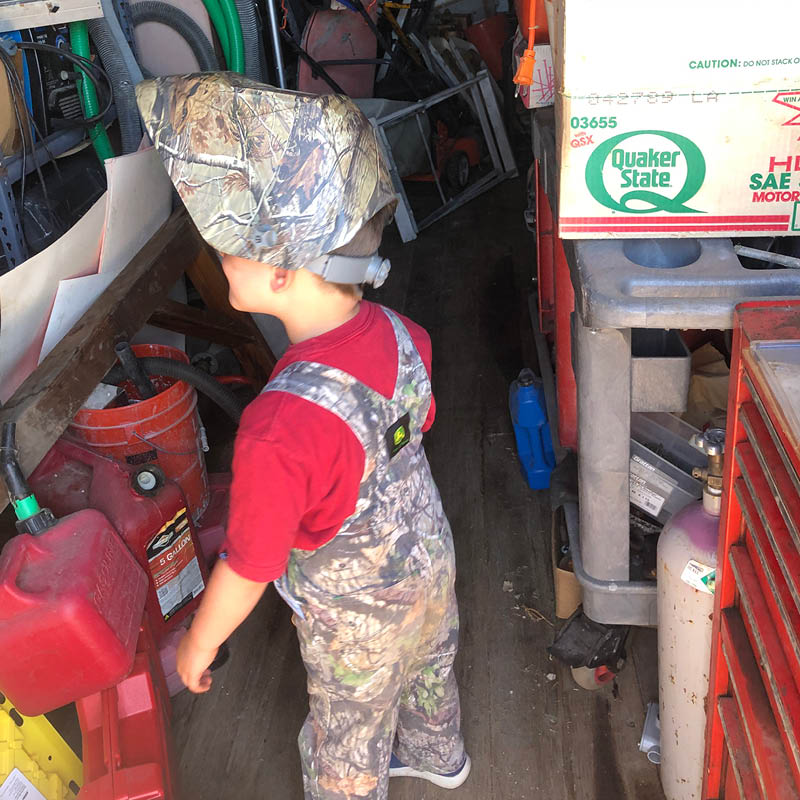 Dan teaching his son his first welding lesson.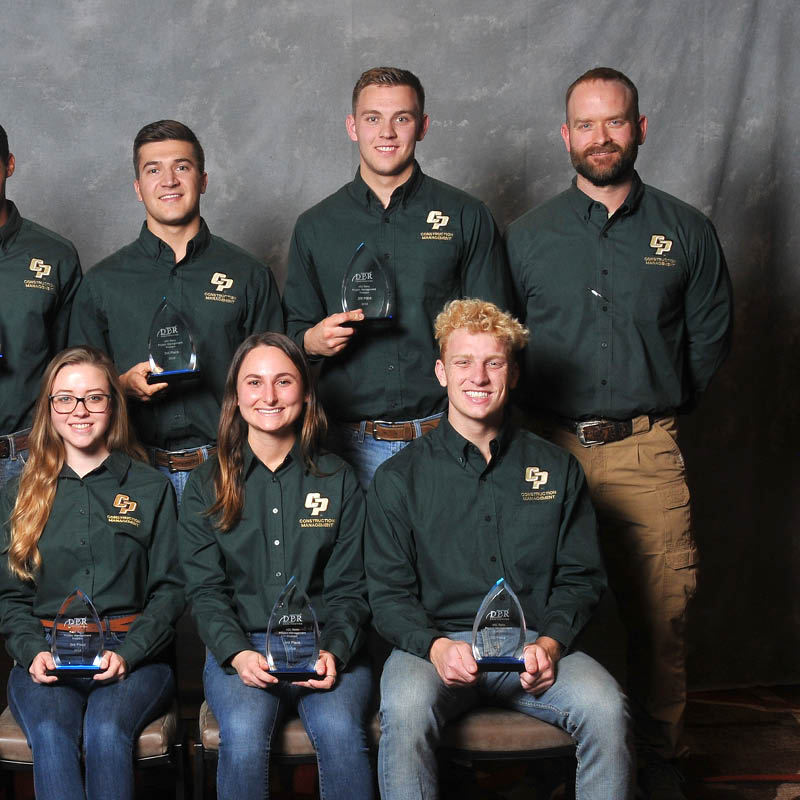 1st place at A.S.C. competition with Cal Poly San Luis Obispo.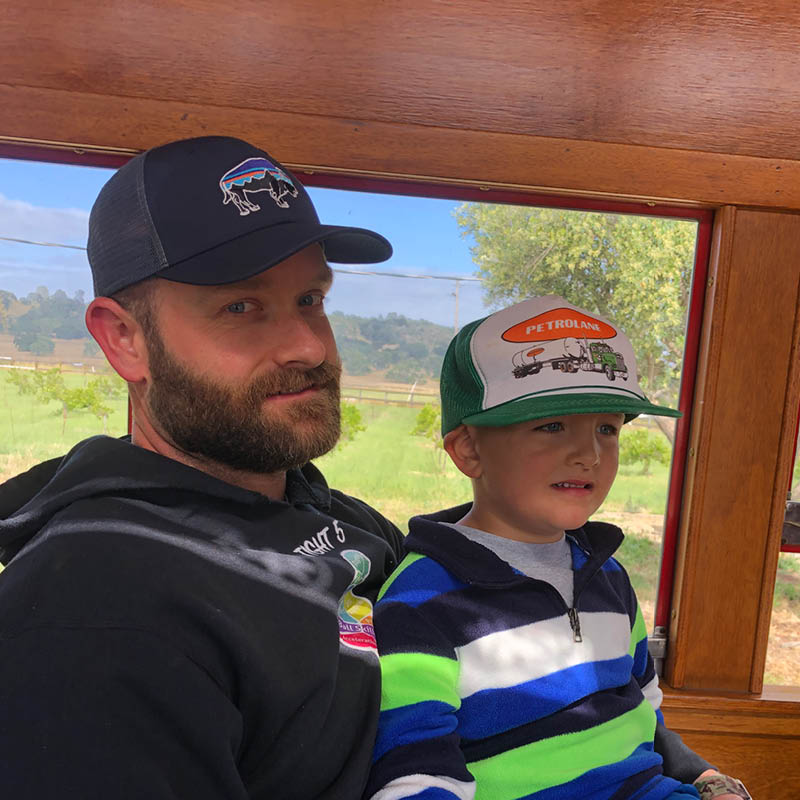 Train tour at Santa Margarita Ranch with the family.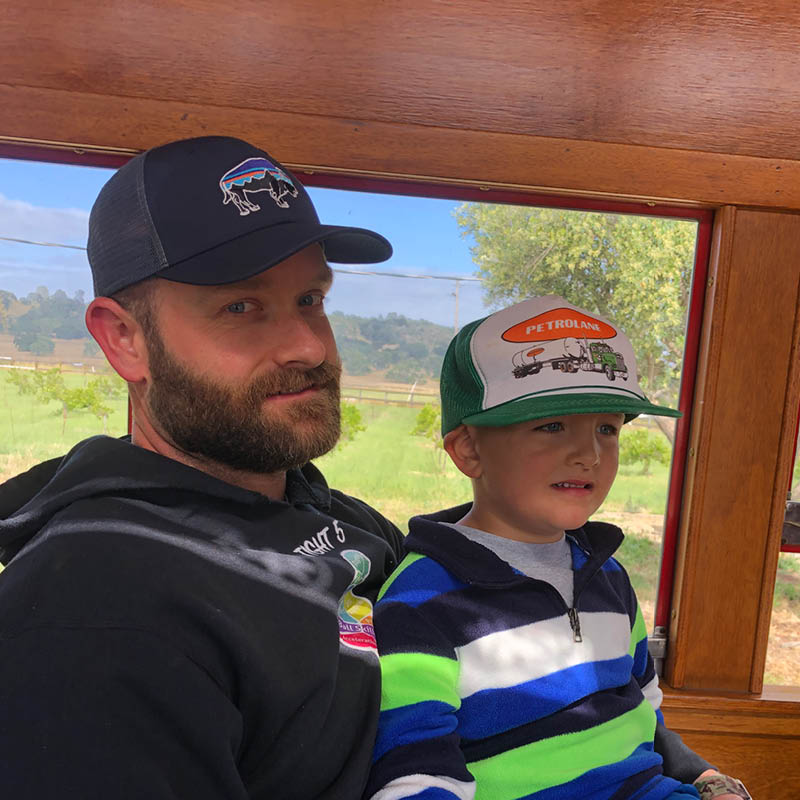 Train tour at Santa Margarita Ranch with the family.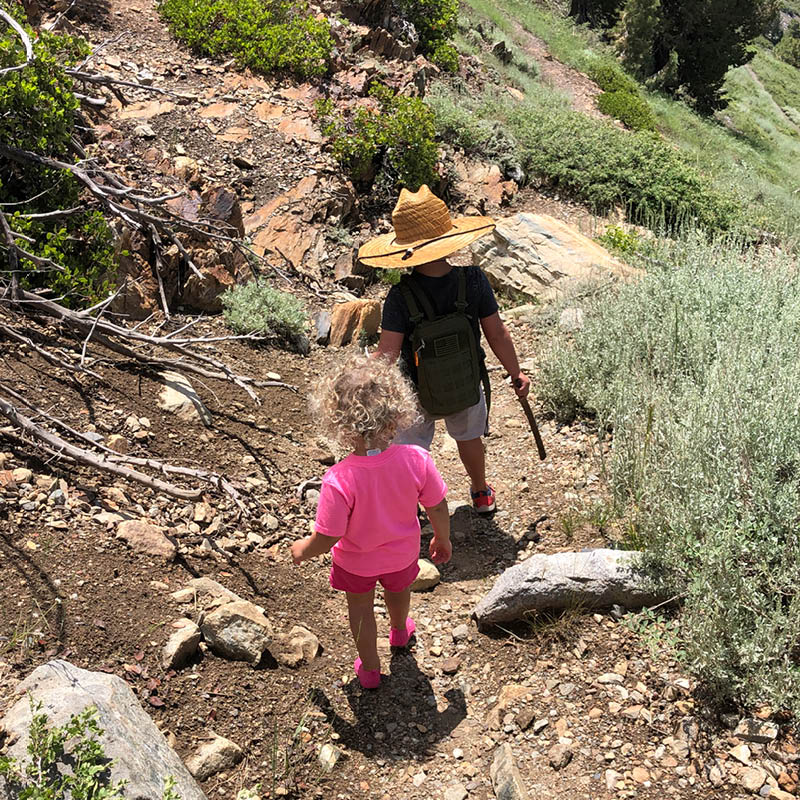 Hiking in Mineral King California with the kids on vacation.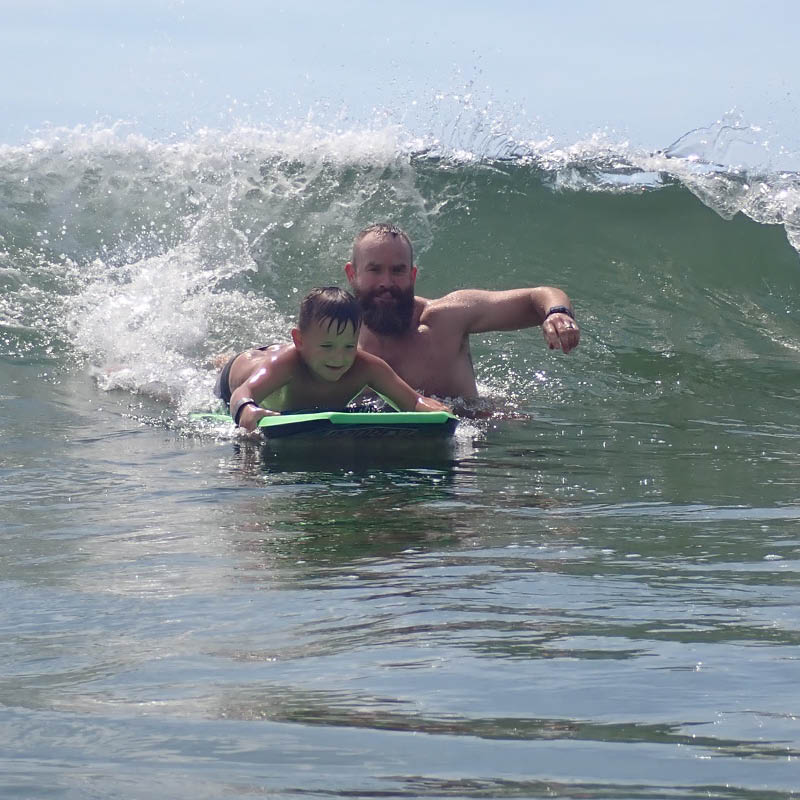 Boogie boarding lessons with Dan's son.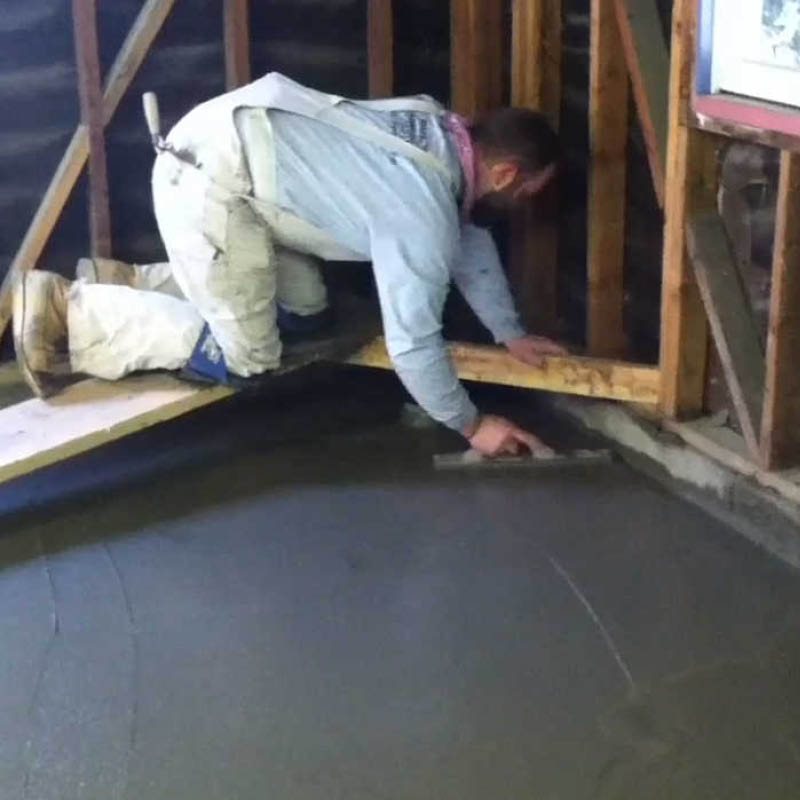 Finishing concrete on a structure conversion in Atascadero California.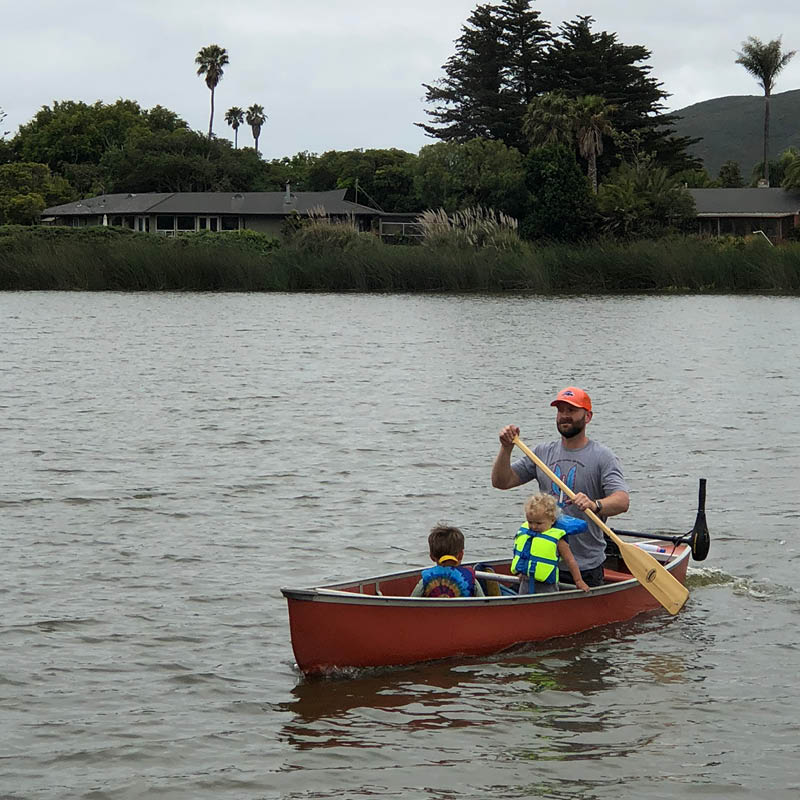 Dan paddling the kids around on Laguna Lake.
For fun Dan likes hiking/rucking, Olympic weight lifting, CrossFit and playing rugby for the SLO Men's Rugby.
Some of Dan's favorite quotes and mantras are:
"Of all the titles I've been privileged to have, 'Dad' has always been the best." – Ken Norton
"Discipline equals freedom" – Jocko Wilink
"The most important six inches on the battlefield is between your ears." – General. Mattis.
"There are hunters and there are victims, by your discipline cunning obedience and alertness you will decide if you are a hunter or a victim" General. Mattis.
 Growing up and living in California Dan worked for his father's general building and general engineering construction company. Dan met, courted, and married his wife Shawn having three children with her. Dan's daily life consists of waking up predawn for a workout, making breakfast for the kids then heading to work, before coming home to make dinner and spend time with the family.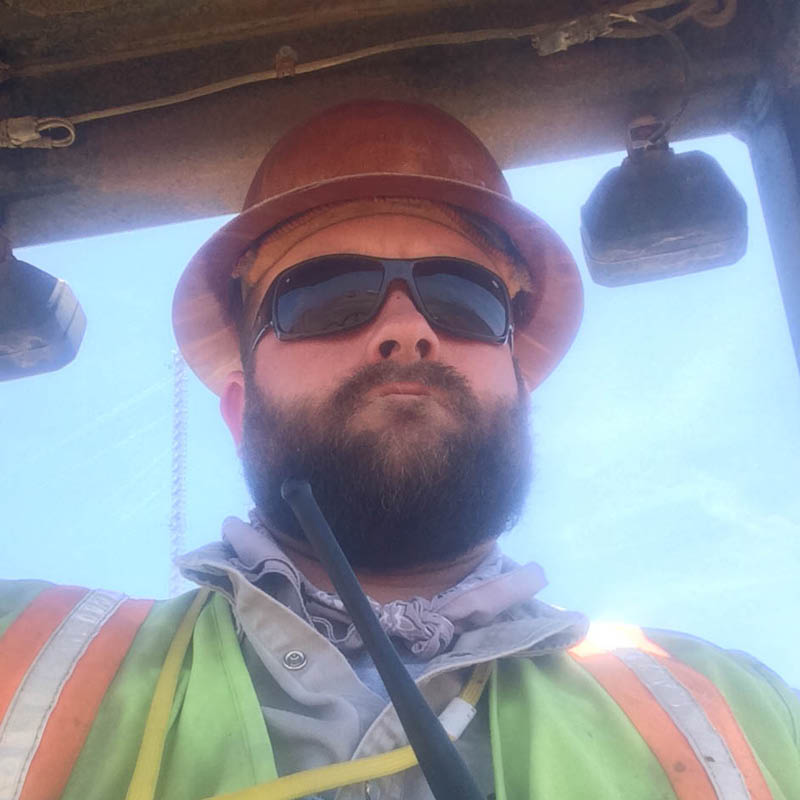 Dan operating an excavator on a project at Vandenberg Air Force Base, California.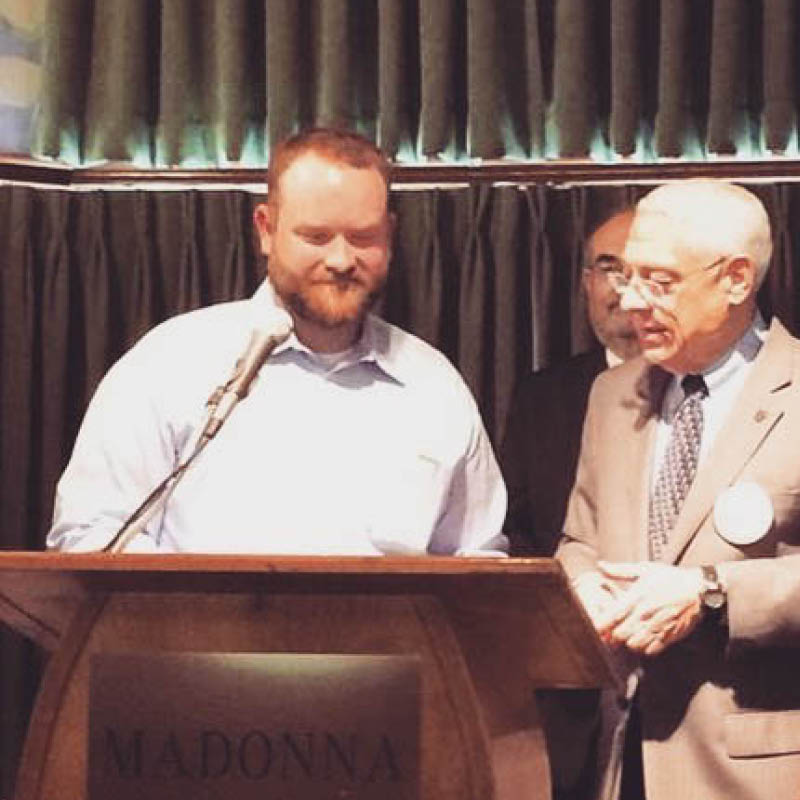 Induction into Rotary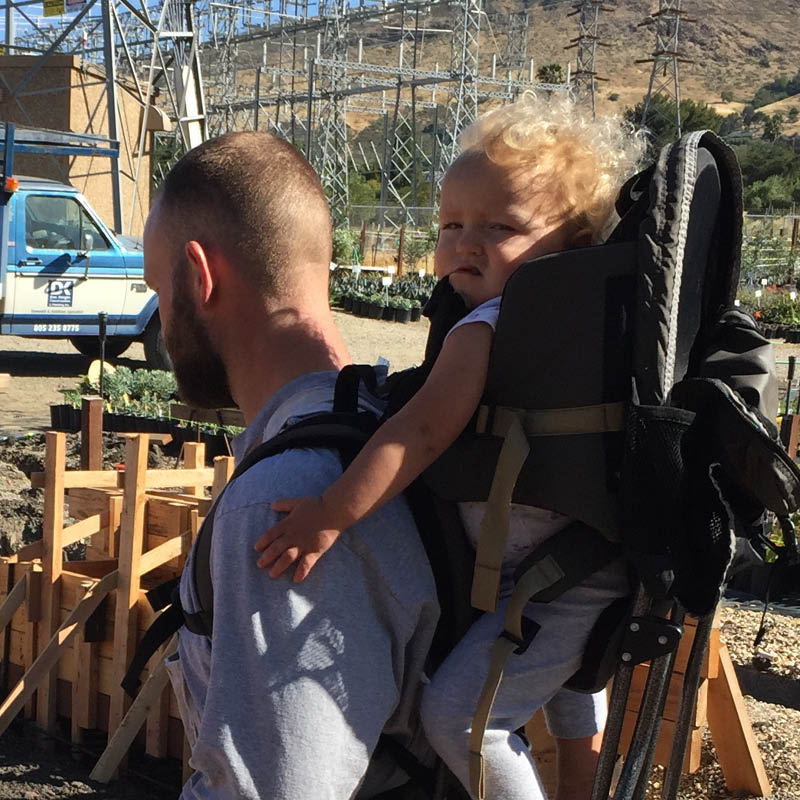 Pouring concrete with daughter in tow.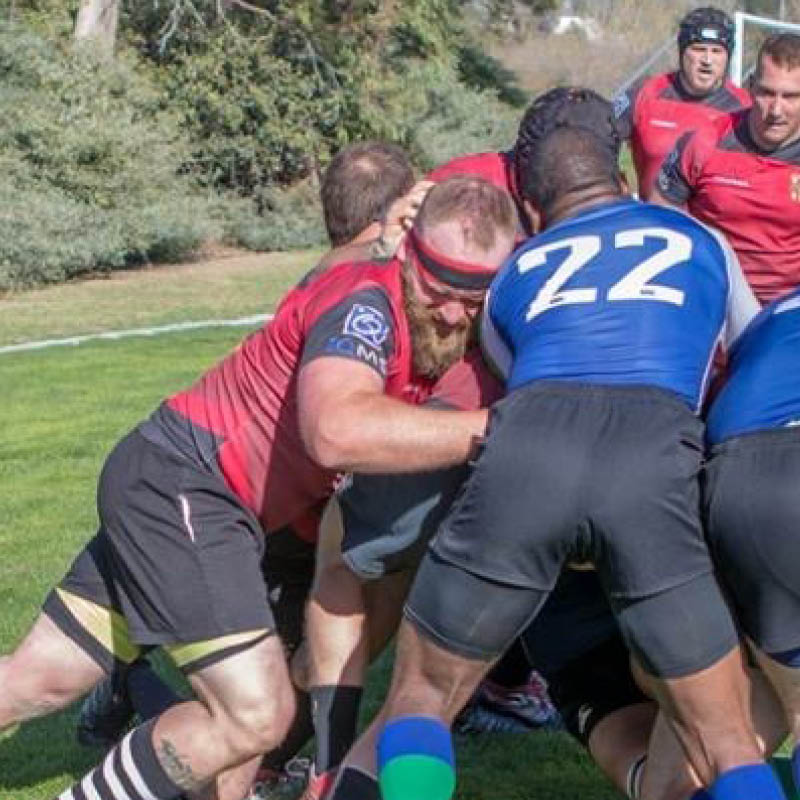 Playing Rugby for SLO against Santa Barbara's team.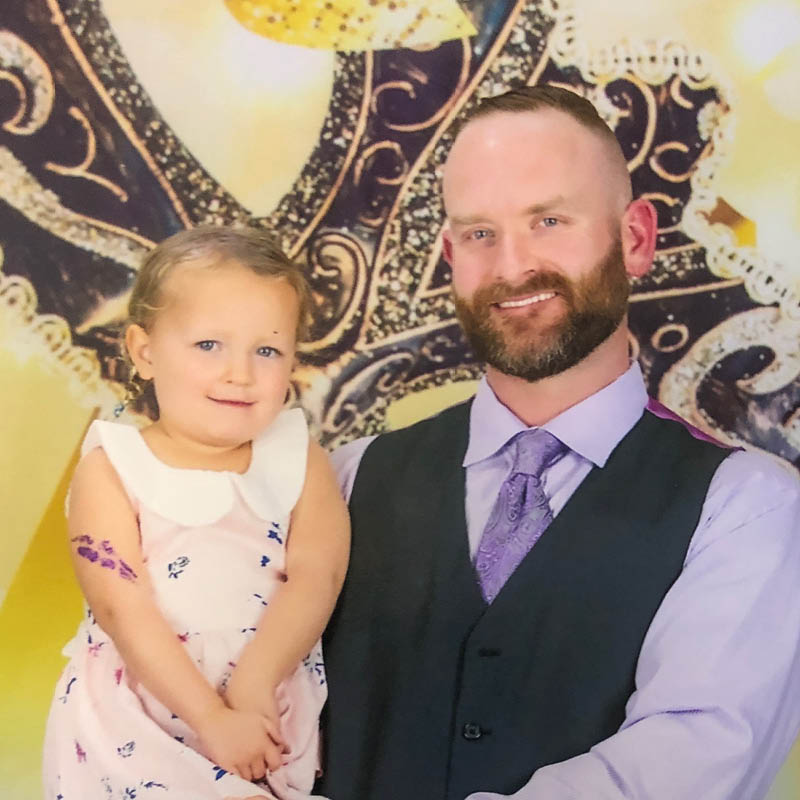 Father Daughter Dance with Daughter.
Building Services
"Better to know one than be one, fool that is"
Building documents provide the blueprints for the technical/organizational aspects of the construction industry. Written language and symbols are used to communicate to all the involved trades exactly how the different systems and components are to be integrated into the overall project. It takes special training and experience to know how to analyze and interpret building documents, and our construction law firm has that specialized knowledge. Because he is a licensed California Contractor in addition to being an Attorney, Dan Knight has the training, skills and "boots on the ground" experience to provide thoughtful and effective legal representation.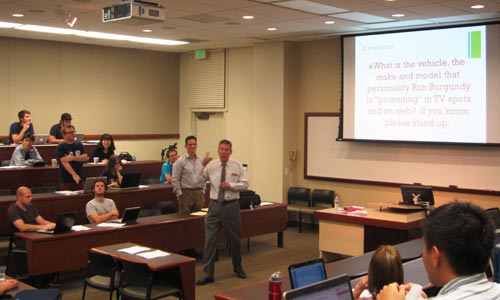 Litigation Services
Construction contracts
Construction Defect
Construction project disputes
Construction Torts
Mechanic's liens
Contractors State License Board Actions
Fraud & Misrepresentation
Collections and creditor Issues
Mediation and arbitration
Department of Consumer Affairs Actions
Expert Witness Services
Contractor Standard of Care Opinions
Forensic Investigations
De-constructive Investigations
Department of Consumer Affairs Actions
Construction project disputes
Contract disputes
Licensing
Mechanic's liens
Diversity of Perspective and Experienced Professional Synergy
Our Firm maintains a continuing focus on developing strong mutually beneficial relationships with many general litigation groups in addition to other attorneys working in specialized fields because we feel these relationships, by leveraging wide and diverse experience, provide significant benefits to all parties concerned.

"We have worked with many expert witnesses and understand that if our firm is not a good fit, we can refer you to another expert who may fit your needs.
We are proud that the majority of our work is derived from referrals made by attorneys and returning clients.
Additional Services for Select or Existing Clients
General Civil Litigation
Employment Law
Business General Counsel
Entity Formation
Business Structuring
Asset Management
Risk Appetite Analysis
Advisory
Please complete and submit the below form so we can contact you to schedule your consultation or call us directly if you prefer to set up your consultation over the phone.
Submission of this form does not create an attorney client relationship. Do not include any sensitive information in this form. Include general information and parties only. A condition of scheduling your consultation will include performing a conflict of interest check by The Law Offices of Daniel J. Knight, a Professional Law Corporation.
Litigation Services
"Lawyers you'll swear by…not at." Legal representation focused on construction law.
Fighting or filing a lawsuit without the help of a lawyer is generally a bad idea. Sure, a lawyer might get expensive – but losing the suit and/or failing to minimize exposure will cost a lot more.
If you are sued, whether rightfully or wrongfully, going it alone can cause you to overlook cross-claims and other defenses/strategies you may be unaware of, thereby causing you to compromise your rights and increasing your exposure needlessly.
Lawyers are counselors at law and should offer impartial analysis to guide your decision making. We offer a client-based practice focusing on construction law and associated legal matters. By focusing on construction we leverage our areas of professional experience and knowledge sets.
By not taking just any case that "walks in the door" and having an area of focus, we maintain our availability for construction related matters. We accept those engagements where we offer the most value, and would be happy to refer you to another reputable attorney if we cannot.
Daniel Knight-a licensed contractor turned attorney, offers unique insight into construction law matters because he has experienced them from the perspective of a contractor, homeowner, project manager, expert witness, attorney and homeowner. With this "in your shoes" perspective and insight, Dan is uniquely qualified to provide solutions crafted and implemented in an effort to resolve your legal matter for the best possible outcome.
Litigation Questions & Answers
FAQ
How Do I Know If I Need to Hire an Attorney to Solve a Dispute?
Unfortunately, that's a hard question to answer. Whether or not a construction attorney is needed will vary greatly depending on the specific factual circumstances. Still, there are general principles that apply.
As an individual Do I Need a Construction Attorney to go to Court?
Everyone has the right to represent themselves in court. That's a basic tenant of law in the United States. However, many construction businesses aren't sole proprietorships. Meaning, most of the construction companies providing construction work won't be doing it as themselves, the individual, in the eyes of the law.
Why a LLC or Corp shouldn't represent themselves?
Yes and No, Whether it's an LLC, an incorporated company, an LLP, or something else – most organizational structures that aren't a sole proprietorship will require representation in order to appear in court. That's true even for principals operating their business as some other entity (like an LLC). So, in the majority of cases, a construction lawyer will be needed in order to go to court in a construction dispute.
The Problem with Self Representation
Most often, even for those individuals who are entitled to represent themselves in court, a person is better off and has better outcomes by having representation by an attorney. There's a mountain of literature out there proving that legally representing yourself in court is a bad idea in most instances. Lawyers are experts at their trade, and there's a reason they get paid to do what they do. 
Are Construction Attorneys Needed for Small Claims Court?
Small claims court is unique. It's specifically designed to be a faster, less expensive, and (overall) more efficient version of traditional litigation. Plus, it's designed so that lawyers aren't really needed in the same way they're needed in regular litigation. However, the same rule applies as above. Individuals (or sole proprietors) can represent themselves in court, but other types of entities must be represented.
A lien or other real property action belongs in "superior court" (regular court) and not in small claims court, as do most other construction-related claims and issues.
Do All Construction Payment Disputes Require an Attorney?
I'm afraid you might not like this answer, but it depends on the remediation method such as:
Leveraging Liens, Bonds, and Potential Legal Claims May Not Require a Lawyer at the onset but can definitely have benefits in enforcement.
Not every construction payment dispute will require the use of an attorney. The laws governing mechanics liens and bond claims in California can be leveraged without the use of an attorney. Even when it comes to actually filing a mechanics lien, or a bond claim – very typically, a claimant can do that without the use of an attorney. Of course, when it comes to enforcing these claims, a construction attorney will very likely be necessary – and it will  be a good idea to have a lawyer involved when proceeding with an enforcement action of either a lien claim or a bond claim.
Unlike lien and bond claims, prompt payment and retainage actions will very typically require some form of legal action after the initial claim is made. You probably need an attorney, and you should definitely hire one if you find yourself in this situation. However, like lien and bond claims, there is an opportunity to leverage these claims before taking them to the courts. Construction payment issues can be severe – so the threat of a claim will always carry some weight. When a letter demanding payment is coupled with the threat of legal action is received by a construction lawyer, the dispute can often be resolved before formal legal action becomes necessary.
Why are Legal Threats Without the Backing of an Attorney are Ineffective
When someone says that you'll hear from their lawyer, it's a cry for attention.
They want you to pay attention to them and take them seriously; they want you to feel intimidated because they want you to imagine going to court against a team of well-armed legal assassins dressed in tailored suits. Nobody wants that, so they are playing upon your fear.
It's not to say that you won't hear from their lawyer. It's just that when they tell you that you will hear from their lawyer, they want you to scare.
Should a Construction Contract be Reviewed by a Attorney Before Signing?
YES! In fact, this is as close to a no-brainer as it gets.
It's common for contractors, sub-contractors, suppliers, consultants or other tradespeople to fall in love with one contract and use it on every job. This is generally a good practice as it allows a familiar contract to be used and one that is also familiar to your counsel. Using the same contract is the best way to ensure familiarity with the terms of the agreement. However, prior to adopting a contract of choice, it's wise to have it reviewed by a construction lawyer. They will be able to assess the strengths and weaknesses of the particular agreement, spot potential points of contention, and help mitigate potential liabilities.
Even if a party will be using a contract form they're unfamiliar with, it's always a good idea to have the agreement reviewed by a construction attorney before signing on the dotted line. It's not uncommon for construction contracts to contain troublesome clauses that shift risk, create an inordinate amount of liability, or consent to less-than-ideal dispute resolution terms. Construction lawyers are experts at deciphering contracts, and they will be able to help construction businesses avoid potential pitfalls. In addition, construction lawyers follow the law and are up to date with changes/revisions to existing law, new laws and regulations and the different legal interpretations thereof. 
It is wise to have construction contracts reviewed on a regular basis in order to make sure they are compliant with current law. Many people involved with construction agreements find out too late that, as written, the contract that was good when they first started using it is no longer enforceable because the law has progressed and morphed since it was originally drafted. 
Less Obvious Situations that Consultation can Improve?
We've described a number of different scenarios where consulting a construction lawyer would be helpful (if not mandatory). Still, let's take a rapid-fire look at a few common scenarios that require the touch of a construction lawyer.
By and large, the best way to utilize a construction lawyer is to avoid legal situations before they pop up. Even when a construction lawyer is reactively brought in – doing so sooner than later can help keep a dispute under control.
Parties being sued. Fighting a lawsuit without the help of a lawyer is generally a bad idea. Sure, a lawyer might get expensive – but losing the suit (and failing to minimize exposure) will cost a lot more. Not to mention, they might be able to identify cross-claims to work in your favor along with identifying other defenses and strategies for mitigating exposures.
Parties suing someone else. Same as above! Filing and fighting a legal battle without the help of legal experts is generally a bad idea. Engaging in a lawsuit without the representation of a lawyer might not even be legally possible – and it's definitely not the best option. As above, when you are trying to be made whole you want to know that every case of action and beneficial strategy is considered before filing your papers.
Parties under the threat of suit.
This one is a little less cut and dry. Not every threat of a lawsuit will require consulting a construction lawyer. However, with the help of a lawyer, it's much easier to decipher which threats are legitimate and with merit from those that are simply cohesive threats. By consulting a lawyer, a construction business or party to a construction agreement will be able to better assess potential liabilities.
I need to get paid, but I don't know how to proceed.
When payments aren't coming, construction businesses have a number of tools at their disposal. Deciding which ones are the most appropriate, most feasible, and most likely to result in payment will be much easier with the help of a construction lawyer. Attorneys are meant to be impartial analyzers of your case in order to help you decide how to proceed.
Expert Witness
"An expert witness is a person engaged to give an opinion based on experience, knowledge, and expertise. The overriding duty of an expert witness is to provide independent, impartial, and unbiased evidence to the court or tribunal."
When you engage The Law Offices of Daniel J. Knight, P.L.C., you get a licensed contractor turned lawyer. This means that you are retaining a expert with many years of experience, knowledge, and hands-on training in the theory and practical application of construction procedures, planning and engineering. This knowledge and expertise forms the foundation for an impartial examination, opinion and curative methodology to provide answers for difficult and at times perplexing situations. Expert findings and reports result from meticulous examination and fastidious measurement/documentation techniques interpreted through the use of the scientific method and are written in a manner that can be understood by layman or industry professional.
In retaining DK Law, P.L.C., you can rest assured that, given appropriate time and investigation, the underlying cause/s of and responsibility for the issue in question will be discovered and reported.
Expert Witness Questions & Answers
FAQ
Why do I need an expert witness and what role do they serve?
A construction expert has extensive knowledge and expertise of the construction industry. Their testimony helps to inform the trier of fact on issues related to construction law such as building delays, codes and compliance, construction costs, and construction defects. In such cases, experts discuss factors such as the building process, construction contracts, financing, bonds and insurance, construction management, mechanic's liens, land use and zoning, licensing, regulatory compliance, and government permits. The building process involves everything from bidding on a real estate development project and negotiating a contract, to attaining building permits and disputing title claims. Construction experts explain industry standards and terms to the trier of fact.
With so much at stake and with the various sophisticated methods of construction used in various construction industries, it's not surprising that experts would play a prominent role. The plaintiff(s) will have a team of experts that is matched by the defense attorneys and these experts are typically used to:
•  Describe the defect
•  Determine its cause
•  Propose a fix
A legal claim arising from a construction project may involve contract law, torts, and property law. For example, the lawsuit could be based on a breach of contract involving a dispute about contract performance or cost of the work or an appeal of a zoning board's building permit denial. This type or legal disputes and others call for scientific testimony from a construction expert to inform the case decision-makers.
Who is Qualified to Testify as a Construction Expert Witness?
A construction expert is someone with extensive knowledge and expertise of the construction industry. They can discuss and describe industry standards, technical language, and complex issues to the trier of fact. They must be well-versed and up-to-date on the methodologies, processes, and materials used in the case at hand. This is especially important as new technologies and processes are constantly being introduced and improved on. Depending on the facts of the case, it may also be important to hire a specialist with expertise in a particular field.
A construction expert may consult, provide reports, and testify on various aspects of construction, such as:
•  Building code compliance
•  Construction defects
•  Construction management
•  Cost estimates
•  Construction safety 
•  Forensic investigations
•  Governmental regulations
•  Infrastructure projects
•  Price discrepancies
•  Quality issues
•  Standards of care
•  Structural engineering 
•  Work zone safety
Construction Expert Witness - Standard of Care
Expert witness testimony can be very effective in strengthening a legal argument, persuading the trier of fact, and ultimately attaining a winning disposition. Here are some examples in general terms. 
Standard of Care
When a legal dispute centers on assigning responsibility for an accident or mistake, a construction expert testifies on the standard of care. The expert may opine on both the explicit and implicit warranties and duties of a construction contract and project plan. For example, a construction contract calling for the building of development, the contract may explicitly warrant the funding for the project. It may also implicitly warrant the comprehensiveness and accuracy of the design plans and specifications. A construction expert can also discuss standard industry warranties, such as attainment of all proper and necessary licenses, the quality, appropriateness and completion of the construction project, good workmanship, and the habitability of the structure. In disputes over such matters, experts provides testimony opining on whether a party in question met the level of responsibility associated with their job description and duties.
Understanding the standard care in construction cases is important for assigning liability. A construction expert can speak to what signify as acceptable workplace conditions and quality standards for a completed construction project. Their testimony will inform the jury deciding which party was at fault.
Construction Expert Witness - Defective Construction
Expert witness testimony can be very effective in strengthening a legal argument, persuading the trier of fact, and ultimately attaining a winning disposition. Here are some examples in general terms. 
Defective Construction: Opinions. 
In addition, experts help by rendering opinions having to do with whether the work completed is up to the standard of workmanship that would be expected. Experts allow those people that "know" good work to offer opinions on the fitness of thew work and the methods used to complete it. Whether the work was customary in the industry and how it will last in the future. 
An example, a residential driveway is poured in stamped concrete, the colors don't quite match and the texture is off. You think "is this normal", an expert would be able to come in and investigate the problem and outline possible causes. An expert might find that the colorant in one of the loads of concrete was off and in another section of the driveway that the finishing crew waited too long to apply the texture causing it to not make as deep an impression causing the texture not to match. 
Experts often put to words what a clinet's gut feeling tells them. They do this is a scientific and provable format that allows a judge and jury or arbitrator or mediator to understand the concept and process. 
Construction Expert Witness - Scheduling Delays
Expert witness testimony can be very effective in strengthening a legal argument, persuading the trier of fact, and ultimately attaining a winning disposition. Here are some examples in general terms. 
Scheduling Delays
Many construction law cases brought to court center on delays in the construction process where the project cannot be completed on time. Delays in construction could cost the client substantial amounts of money, especially where delays prevent their new business or operation from opening as planned. These delays might stem from any number of issues. For example, a delay could be caused by a third party unable to deliver building materials as promised, forces of nature such as floods and snow, or a sub-contractor suddenly filing for bankruptcy.
In bringing a cause of action for costs incurred as a result of a construction delay, the plaintiff-contractor must meet the heavy burden of proof. As stated in George Sollitt Constr. Co. v. U.S., 64 Fed. Cl. 229, 240 (2005), the contractor must show that the breaching party's actions affected activities "on the critical path of the contractor's performance of the contract.". It follows that disruption of an activity not on the critical path does not hinder the completion of the project. For instance, an activity "on the critical path" might be excavating and preparing the building site, before the foundation for the home can be laid. A construction expert who specializes in such details of the building process can explain how a construction project is scheduled and which was party – or parties – was or is at fault.
Construction Expert Witness - Estimates
Expert witness testimony can be very effective in strengthening a legal argument, persuading the trier of fact, and ultimately attaining a winning disposition. Here are some examples in general terms. 
Estimates
One of the more contentious issues associated with construction contract litigation is, of course, the price one must pay for a certain construction job. 
The complexity of such issues is compounded by the fact that there are multiple contracts and parties involved with a project that might contain divergent terms or monetary penalties. The general contractor relies heavily on the estimates provided by sub-contractors and their services during the building process. Sub-contractors include speciality trades and consultants. The estimates from the sub-contractors are computed to find the general-contractors overall bid for a project. However, litigation can arise in situations where there have been computing mistakes. Such mistakes affect the bid, resulting in either having to rescind a bid, or scramble to find a cheaper alternative. Thus, when a subcontractor makes a mistake, the general will try and enforce the terms of the sub-bid, often arguing the legal theory of promissory estoppel.
In the seminal sub-bid case, Drennan v. Star Paving Co., 51 Cal. 2d 409 (1958), the Supreme Court of California considered the legal obligations of a sub-contractor submitting a bid to a general. In that case, the defendant paver phoned the plaintiff general-contractor the evening before the general's bid was due and offered a sub-bid. The general was ultimately awarded the project and chose the defendant for the paving work as he had provided the lowest estimate. However, the defendant then informed the plaintiff that he had made a mistake in computing his bid and he couldn't possibly do the work for less than twice the original bid.
At trial, the defendant argued that he was entitled to rescind his offer because it was clearly a mistake. The court disagreed noting that this case differed from those where the sub-bids were so low it should have been obvious to the general that the bid was incorrect. The defendant then contended that his sub-bid constituted a revocable offer. Meanwhile, the plaintiff argued that it was customary in the area for generals to receive the bids of subs by telephone on the day set for bidding for a project and to rely on them in computing their own bids. The court again sided with the plaintiff, holding that "Defendant's offer constituted a promise to perform on such conditions as were stated expressly or by implication therein . . . [and] had reason to expect that if its bid proved the lowest it would be used by the plaintiff."
In such a case, testimony by a construction expert can help to sway the judge and jury. The expert would be especially helpful in elaborating on customary practices in the bidding process. Such as whether a bid received by telephone is binding on the sub-contractor, and explaining what bid signifies a computing mistake such that a general contractor would reasonably believe it to be erroneous.
Real Estate Services
"If it is land or things connected to it, we provide insight and expertise".
In order to understand real estate you have to understand history and where our American system of law originates from. In addition, you must understand how property is owned in the historical context and when overlaid with the California community property system. If you need to sell your property we can assist you. If you need a title document drafted or a defect in the title documents cured we can also help you. Our aim is to be able to fill in the gaps were a real estate agent or broker may be out of their depth or not able to properly advise you as to legal implications of a transaction. Brokers and agents primary goal is to sell real estate, whereas our primary goal is to give you solid legal advice and assist you in your legal and property objectives.
If you have already been involved in a real estate event that has gone sour, we are available to zealously and aggressively protect your interests, or like a fly fisherman gently places the fly on stream, we can also delicately advance your goals. Like Bruce Lee said "…water can flow or it can crash, be water…".
Real Estate Questions & Answers
Our real estate attorneys can assist with all residential and commercial real estate matters from purchase to sale and beyond, including:
Boundary disputes
Easements
Adverse possession
Zoning and land use

Stop foreclosure
Foreclosed home buyer representation
Failure to disclose defects
FAQ
Do I have to hire a lawyer for California real estate transactions?
It is not always necessary to retain a real estate lawyer in California, and most real estate transactions are finalized without any attorney involvement. Remember though, that a broker or real estate agent does not have the same ethical obligations as a licensed attorney. Per California Bar Formal Opinion NO. 1982-69, an attorney must meet the higher ethical obligations of an Attorney, even when operating in the role of a dual licensee as a real estate broker. Therefore, non-lawyer participants in a real estate action may not always be looking out for the interests of a buyer or seller. But an experienced real estate attorney has only your best interests in mind, and can help you navigate the legal nuances of buying or selling your home. 
The main reason to use an experienced California real estate lawyer is to make sure that your interests in the transaction are fully protected, though not required. Real estate purchase or sale contracts are legally binding documents. Unless you fully comply with the terms stated in those documents, you could risk losing your earnest money or even being sued for breach of contract. An experienced real estate attorney will review your contracts, explain all of the terms contained therein to your full understanding, and work to ensure that all parties to the contract are meeting their obligations.
How can a real estate attorney protect me from problems with the property title?
Another reason to hire an attorney in a real estate transaction is to help you decide how to structure the title to your property. Title documents, including the deed to the house need to accurately reflect your intentions with regard to who has legal rights and obligations to the property. These issues are legal decisions and should be explained by an attorney.
When more than one person will share ownership of the property, there are two ways to take title, amoung others: Tenants in Common and Joint Tenants. Owning property as Tenants in Common means that two or more people own property together but when one person dies, his interest passes to his heirs, not the surviving owner(s). Joint Tenancy means that upon the death of one of the owners, that person's interest in the property transfers to the surviving owner(s). In California, if the deed is missing the specific language to create a Joint Tenancy, Tenants in Common is presumed. There are serious complications that can arise from having incorrect title documents so seeking the advice of an experienced California real estate lawyer before closing can eliminate costly mistakes down the road.
What kinds of problems can a California real estate lawyer prevent?
I have been called when a property is in escrow,, subject to the mortgage being approved no later than a certain deadline date. When that date passed and the mortgage still was not approved, the buyer or their agent failed to request a timely extension to secure the financing required to purchase the property. In this scenario, the seller is then free to sell the property to another buyer, or to cancel the sale. In other situations, the buyer was unable to secure the necessary financing altogether. After the contract was terminated, and the buyers attempted to get their earnest money back, they found out that it was lost because they failed to complete or extend the contingency provision of the contract.
Sometimes when the housing market is hot and properties are quick to go into escrow, buyers will waive contingencies in the hope that the seller will select their offer over competing offers. But this practice can expose the buyer to greater risks. If the  buyer's inspection discovers a defect in the condition of the property that was not easily observable or disclosed when the contract was accepted, the buyer may decide to cancel the contract. But because the home inspection contingency was waived, the buyer's earnest money is lost. Unless these issues are fully explained to the buyer in advance, he or she may be unaware of the legal ramifications of such decisions.
Having an experienced California real estate lawyer involved in the transaction can ensure that all contract terms are fully understood by the buyer or seller, all obligations are met, or time-sensitive provisions of the contract are extended as needed to ensure a smooth transaction takes place.
How can a California real estate attorney help sellers?
If you are considering buying or selling residential real estate and want to ensure that your legal rights are protected and obligations are met, consider safeguarding yourself by hiring an experienced California real estate lawyer.